Pepito et Weetabix sont dans un bateau.
Il y a des conflits qu'on ne soupconne pas.
Bien sur, il y a ceux qu'on soupconne aussi. Ceux qui font des morts. Genre la Tchétchénie, l'Irak, le Tchad, et tout ce bordel. Mais il y a des conflits bien plus graves : la guerre des consoles par exemple. Et ça a la télé, personne n'en parle. Pourtant c'est des milliards de thunes qui sont en jeu. C'est bien plus grave que des vies humaines. Si si (vous l'avez compris, ce blog est méchant).
Mais dans les années 80, alors que la guerre froide était sur le point de s'achever, un conflit bien plus silencieux, une véritable guerre secrete faisait rage.
VERSUS
Oui, c'est violent. Et les victimes ont été nombreuses en plus. Pourtant, les médias se sont tut sur cette épouvante atrocité. Les victimes ? Nous autres joueurs, dont les portes monnaies ont été décimés.
Car sur CPC est sorti un jeu. Un jeu Pepito. Déjà, je trouvais bizarre qu'un gars de chez Titus a pu être regardé sérieusement quand il a dit "Et si on adaptait la Zoubida en jeu vidéo ?", alors je vous raconte pas la tete que j'ai fait en découvrant cet écran titre.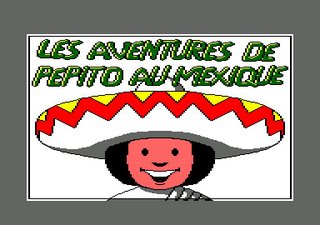 J'avoue, ca m'a court circuité le cerveau. Explications.
Les aventures de Pépito AU MEXIQUE. Je ne suis pas un bouffeur de chocolat
mais j'ai toujours cru que Pepito était mexicain au départ. J'veux dire, il a un sombrero, un poncho, il parle espagnol, etc. Mais non, apparemment puisque les "gars du marketing" ont décidé d'appeller ce jeu "Les aventures
de Pepito AU MEXIQUE" et non "Les aventures de Pepito tout court", on se dit que Pepito doit cacher un énorme secret. Peut etre est il allemand ? Peut etre a t'il donné des juifs pendant la seconde guerre mondiale et a vécu comme réfugié politique en amérique du Sud avant de rejoindre le Mexique a pied ? On ne sait pas. On ne saura jamais. Il faudrait diligenter une enquete pourtant.
L'écran titre est suivi d'un dilemme insurmontable.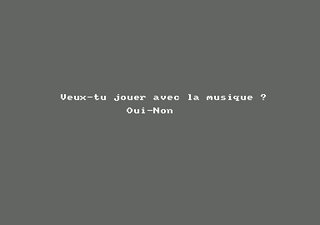 Oui. Il n'y a que dans les jeux micros des années 80 qu'on trouve des questions
existentielles de ce genre. La aussi, ca a failli me court circuiter le cerveau : considérant que ce jeu n'a aucun effet sonore, pourquoi ne pas mettre la musique active par défaut et laisser le joueur ajuster le volume de l'écran ? On a donc tout intéret a répondre "oui". Par contre, si on répond "oui", cela signifie intérieurement qu'on accepte d'entendre en boucle "Pepito Mi corazon" jouée en boucle sur une voix, une octave. On... on doit appuyer sur "oui"... mais on ne sait pas si on peut... ou si on doit... Une expérience très très perturbante. Un véritable "Choix de Sophie". Quand je vous disais qu'il était pas net Pepito. Je parle, je parle. Mais je parle pas du jeu.
Figurez vous qu'on a volé le chocolat de Pépito. On ne sait pas qui. On ne sait pas pourquoi. Je suppose les méchants de Weetabix. Toujours est il que Pepito est "here to kick ass and eat chocolate, and out of chocolate". En trois mots comme en mille, ca va chier..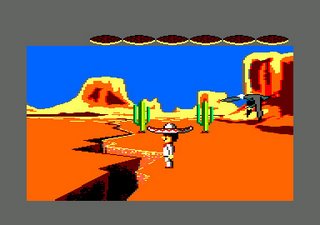 Pepito contre la faille de San Andréas
Pepito évolue sur a peu près environ 33 ou 35 écrans (me souviens plus). Et c'est plutot joli. Les fonds d'écran sont colorés et exploitent la palette graphique du CPC. Notons un parti pris de gameplay relativement audacieux : dans les jeux de plateforme, on va de gauche a droite. Et bien dans Pepito c'est l'inverse. Une idée de génie qui a failli révolutionner le jeu vidéo.
Pepito contre le bout d'arbuste mutant
Le parcours de Pepito est semé d'obstacle : essentiellement, des trous. On apprend dans "Pepito au Mexique" que le Mexique est un pays bourré de trous. Pepito peut donc marcher et sauter, mais aussi, il dispose d'une arme incroyable : le sombrero boomerang en fer. La pub pour Pepito n'insiste pas sur ce point : Pepito est un dangereux psychopathe avec un sombrero magique qui le balance sur la faune locale dès qu'elle lui revient pas. Arretons cet homme. Pardon, cet hombre.
Pepito et son sombrero contre l'aigle en deux couleurs.
Sur sa trentaine d'écran, Pépito aura fort a faire pour échapper aux méchants vautours, mais surtout, aux bouts d'arbustes séchés. Vous savez, ceux qui traversent les villes fantomes dans les westerns. Et ben je sais pas ce qu'ils ont bouffé ces arbustes la (des biscuits Pepito surement), mais dès que Pepito se fait toucher par l'un deux, il part un écran en arrière. Une expérience... perturbante elle aussi. D'autant plus que chaque transition d'écran est marqué par un temps de chargement relativement insupportable qui plombe le jeu a lui tout seul (au moins, la musique s'arrête pendant... mais reprend pile a l'endroit ou elle s'est arrétée ! Ca devait
surement être un des "selling point" du jeu).
Pepito contre l'écran de chargement
Au final on un jeu bizarroide, incongru, mais assez sympatoche a jouer.
Mais la concurrence est la.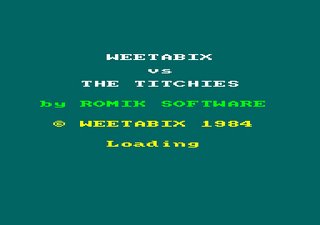 Weetabix contre les titchies. Qu'est ce qu'un titchie ? J'en sais rien, et je m'en contrefous.
Et je vais etre un peu plus rapide sur ce jeu que sur Pepito. Surement par ce que j'y aie moins joué. Qu'est ce que le jeu Weetabix ? Un space invaders mou. Regardez.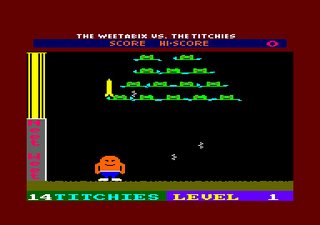 Voila, c'est aussi excitant que ca en a l'air. Et comme je suis super magnanime, j'ai essayé de vous en faire une vidéo mais ca a foiré. ALors j'en ferai pas. Ca serait du gachis
de bande passante pour les enfants qui meurent de faim.
Décidement, ils sont forts ces mexicains.